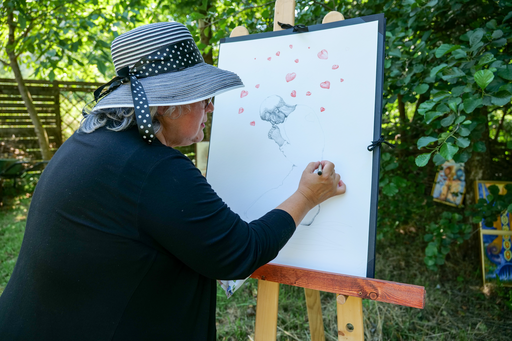 Carmen Todita was born on November 30, 1961 in Turnu-Severin. She grew up in Transylvania, the most picturesque region of Romania.
As a child, she loved to draw and paint and her notebooks filled up quickly with her sketches. Carmen also uses the walls, tables, and refrigerator in her parents' house as a large drawing board, sometimes to her parents' despair. Her imagination sometimes came alive on the corners of notebooks during class or in the address book during a phone call.
Carmen has an innate talent for drawing and painting, in her youth she developed this talent on her own, transforming her passion for drawing and painting into her favourite hobby. Later, in adulthood, she took a few short courses to improve her drawing and painting techniques. Her parents wanted her to study economics, but her soul always wanted to create art. In 1987 she graduated from the Faculty of Economics at UBB in Cluj-Napoca. Only at the age of 55, she gathered the courage to study graphics and painting at the "Tudor Jarda" School of Arts in Cluj-Napoca. In 2019 she finished her studies and then started a new course called Creative Therapy. In the meantime she graduated as a Master Art Repreneur at the Art Center Amsterdam in the Netherlands and she is actively pursuing her personal creative development.
Graphically, this allowed her to develop her own style with a technique that suits her perfectly: ink drawing (with fineliner). In the Netherlands she shares her experience with other people who are interested in beauty and art. Under her guidance during the course and / or workshop, she supports your inspiration to achieve step by step a beautiful result together. A successful ink drawing displayed in the living room is admirable, especially if you can say you made it yourself.
Besides having numerous exhibitions both in the Netherlands and in Romania, Carmen is working on a completely new technique: intuitive painting, based on the use of human senses.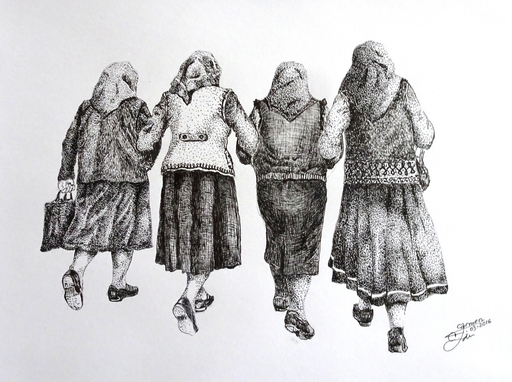 During the course/workshop very interesting methods are used to awaken your intuition. You will experience nostalgic and new feelings. Using your senses, intuition, colors or memories, you can convey your experience on paper or canvas.
Carmen wants to pass on her inspiration and experience to all people who love drawing and/or painting and who want to develop their talent. Even those who have never painted a picture are welcome in her workshops or classes. She thinks art is in you, just waiting to be stimulated!
Do you want to know more about her activities? You can contact her without any other obligation of course.
For more information you can visit the websites or you can contact Carmen at any time by email below.
Kunstenaars StEK Carmen Todita